The original plan was to document our food on Memorial Day. It didn't happen.
The wind was producing a minor grill debacle, which commanded our attention over food photography.
Nonetheless, here we are for our blog's 3rd WIAW!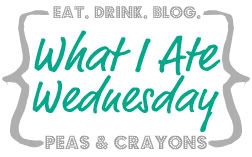 Head over to Peas and Crayons to join in the fun!
6:15 am
For breakfast today, I decided to try the Triple Oat Breakfast Bake from Bran Appetit. You can't really see it in there, but it was delish! Instead of apple, I had a pear, since I can't resist buying giant bags of them when I go to Costco and am now on the race to finish them before they go bad. This breakfast definitely kept me full, which makes me happy.
I could have done without it, but I had an apple and sipped on an iced coffee throughout the morning (picture to come with lunch).
11 am
I work lunch duty at school (last Wednesday that I have to do that...woot!), so I had to snap a picture of all my food for the day before I left this morning. Lunch consisted of a ham and cheese sandwich on whole wheat bread, some carrots, and cottage cheese. Plus, gotta have my Diet Dr. Pepper. I'm on such a pop kick lately...it's bad news.
Think I snack enough? After school and before my grocery store trip, I munched on whole wheat tortilla with PB. Mmmmm...
Ashley's turn!
Breakfast
6:30am
So I had been eating Multi-Grain Cheerios and adding my own peanut butter to them. Now I've discovered these Peanut Butter Cheerios and let me just tell you they are AMAZING! By far one of my favorite foods right now, I could eat them for every meal for months if I wouldn't be looked at like I was crazy!
I'm on a win/lose battle with weight loss and to keep my calorie count lower I have a Weight Watchers brand meal every day for lunch. Today I had a Broccoli and Chicken meal, not one of my absolute favorites but with the little bit of protein in it I feel full for longer during the day. On top of that box is the wrapper of what usually is my mid-morning snack but today I had it with my lunch. Its a strawberry fruit strip and they are delicious!
Tonight we had a staple meal for Matt and I. Taco Salad! We are both huge fans of tacos and I decided to make taco salad. Definitely a winner.
I rarely snack during the day so I didn't forget snacks but if I DO have a snack its usually a Clif Energy bar that I'm currently out of until my next grocery store trip!
Until next time....what did YOU eat this Wednesday.